The last day of our first in person seminar was another whirlwind of tours around the town side of O'ahu. After completing a two-day training with the famous Donna Ching, we were all too eager to utilize our new skills in the real world.
We started off bright and early at Foodland Farms where we met with Chad Solari, the Director of Produce. He shared with us the journey of Foodland Farms and how they are currently filling the demand in Ala Moana by providing their customers with fresh, local fruit and produce as their primary focus. They offer a wide variety of local produce from ulu (breadfruit), dragon fruit, local bananas to lettuce, tomato and pepper mixes grown by Sensei Farms who Blair Richards of this cohort works for.
Mr. Solari walked us through the produce department explaining the layout in detail. For Foodland, they want local produce. As you walk into the store in Ala Moana from the parking garage you are immediately met with a wall, yes, a vertical wall, of different local produce. This set the tone for the entire store. With a natural flow around the various fresh offerings, you can find speckled value added and packaged products. He explained how they work with different size farms, different operations and how their customers appreciate the ability to have the array available to them in the city.
Food safety is a major problem with many small farms. So is the five page rigorous paperwork you have to fill out prior to being a vendor. Yet, producers can just email Foodland through their website and will get a response. Foodland wants local food and is willing to work with the various size farms, especially if you have fresh or unique produce and enough to fill a spot in the retail store.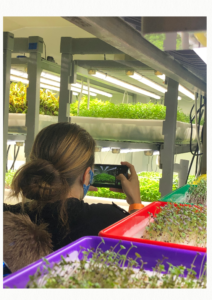 We then headed to MetroGrow Hawai'i, Hawai'i's first Urban Vertical Farm started in 2013. A farm in all contexts, but not a typical farm by any means. Their unique growing systems have the ability to mimic various ecosystems and maintain consistency regardless of outdoor weather. The operation is growing, and they recently had to relocate to a larger building. They are located in the middle of the sprawling urban city offering an array of fresh produce including lettuce, sprouts, leafy greens and a unique yet delicious ice lettuce. Kerry Kakazu, PhD is the Chief Farming Officer of MetroGrow Hawai'i and his job is as complex as it sounds. It was rewarding to be able to spend over an hour with him.
After the safety talk in what will be the future "farmers market" already offering local value-added products, he aims for the community to be able to pick up fresh produce directly from him at "the urban farm". Mr. Kakazu walked us through his operation. Seemingly small, there was four different grow rooms, jammed packed with plants at all different ages of growth. This operation is growing plants on vertical shelves, under LED lighting, routinely misting the plants roots (rather than have roots submerged as in hydroponics). His customer base ranges from local who come in on farmers market days, to high end restaurants, bars and retail outlets.
We were fortunate to be able to try some things including their corn sprouts that are never exposed to light which created a unique flavor. Chefs, he mentioned really like these corn shoots. He then shared with us his pesto in which he has been working on for some time. The highlight was trying ice lettuce – best description is a lettuce chip. It was salty, crisp and green. Utilized by sushi chefs as garnish, it was a surprise in the mouth- if you get a chance to try it, don't pass up the opportunity.
Continuing our journey to Young Brothers (YB) was as opposite of an operation as imaginable. We were provided the opportunity to sit at their massive business table and meet and visit with Jay Ana, President of Young Brothers, Keith Kiyotoki, Senior Sales and Marketing Manager, Jennifer Lim, Communications Specialist, Stevette Santiago, Director, Human Resources & Labor Relations, Radford Park, Freight Operations Manager and Kara Fuller, Communications Intern. We were welcomed into their office and provided conversation about YB and a short presentation before receiving a quick tour of the dock. Jay Ana is a natural leader, his team looked up to him, respected him and appreciated him taking on the leadership role at such a pivotal time for the company.
Young Brothers is a 120-year-old operation and is the base of all interisland shipping needs. At every moment of every day… a YB ship is sailing connecting the islands together. Providing a mix of services including mix cargo (non-palatized), refrigeration service, livestock transportation, automobile transportation, etc. YB did upgrade their tugboats this year purchasing four brand new Tier 4 environmentally friendly tugboats allowing to move barges more efficiently and with less break downs helping to ensure accurate and timely shipping. The new tugboats run at a 6000 horsepower versus 4000, in this business efficiency matters.
The tour around YB put our conversation in the office into real life perspective. Looking around and seeing the containers with mix cargo inside help to imagine the families that utilize this service for everyday needs. It was mentioned that YB will ship items like water bottles and food from Costco on Maui to their family on Lanai saving money and time. Watching the operators pick up a 40-foot container from a truck and swinging it in the air with such precision and ease, placing them perfectly onto of another was nothing short of impressive. The operators have to get a renewal on their license every couple of years and dealing with various truck drivers is no small feat. With the change in climate and weather, we were shown the area that YB is not allowed to store containers or utilize due to the pier needing renovations and upgrades. The amount of space that they utilize, it is a wonder that accidents don't happen more often. Yet, safety is their number one concern, so much so, we were asked to share our own safety concerns with the staff so they can address it sooner than later. What an operation, Jay Ana and his team do a great job keeping everything moving between islands.
Now that the small and large operations filled our minds, we went to D. Otani Produce. As we walked into the office, a culinary aroma greeted our senses. It was as if we walked into a fine dining restaurant. Yet, as we looked around, we saw a business office. Around ten people were in the room taking phone orders from retail establishments, ensuring shipments, and organizing the workload. We could hear the printer going, the AC buzzing, but the smell…. The smell overwhelmed the daily operational tasks that we were seeing. Turning the corner there was a proper business table and a beautiful high-end kitchen with Chef Sam Choy bustling around with fluidity and grace. No wonder his food tastes amazing, his attention was completely focused on just that regardless of the seven people who entered the room to greet him. He gave nothing but the highest praise for the produce that was grown by Sensei Ag on Lanai and featured the tomatoes in his specialty bisque and the lettuce under the New Zealand smoked salmon. What a treat!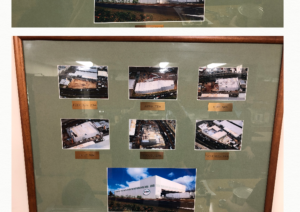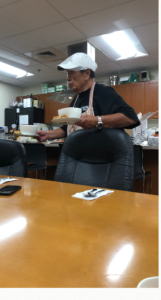 We were graced with meeting the owner himself, Dwight Otani,
President of D. Otani Produce. A distributor at the core, he works with growers (local and not) to fill retail demands and restaurant plates. Over lunch we sat down with Dwight Otani for a good 'ol fashion conversation about business. As a leader, he tells it how it is. A common attribute of success. As a leader in the business for over 40 years, he had a lot of advice, a lot of wisdom, it is no wonder why he remains on the top.
We were also fortunate to converse with Grant Sim, Sales Consultant for D. Otani Produce. He brought to the conversation the reality of being in the distribution
business. Although local food is nice, filling stores and chef desires is business. When COVID hit, the restaurants closed. Tourism closed. D. Otani's outlets closed. Yet, food was still in transit. Food was still in the warehouse. D. Otani donated much of what they had on the shelves to the food bank and food pantry. Mr. Dwight Otani shared that he has the date written on his mug, March 20, 2020… a day of instant change for his business.
We were invited into the warehouse which stored all the produce, products, and fruit…. It was cold, we had to wear an array of heavy jackets just to stay warm. Guided by Mr. Otani himself, we walked around the warehouse. It was clean, organized, and downright amazing. The warehouse was segregated in many different compartments keeping the various food items together that didn't disrupt the ripening stages of another. Each area was a different temperature ensuring the produce within was kept at optimal temperatures to ensure freshness. Those foods that are considered allergens were clearly marked and the staff trained. Food safety is no joke, even at the distribution stage.
Tori was gifted a (huge) can of Mr. Otani's favorite tomatoes, a favorite amongst the chefs he works with he even purchased his own label for them…. "Inato Tomatoe". If you look closely, you can see Dwight's humor… Inato is Otani backwards! A personal touch of approval for his favorite clients.
Thank you, Blair Richards, for organizing this visit… we learned that Chef Sam Choy, Dwight Otani and Grant Sims were all fans of Blair. So much so, that we heard that when Blair worked for D. Otani years ago, he brought his lunch in glass jars and Chef Sam Choy brought this to our attention by providing Blair and the whole group a fruit cocktail served in a glass jar! Good humor, good leadership and good conversation made for a great site visit!
If that wasn't a day in its own, we headed to our last site visit of the week. We met up with Alumni Matt Johnson, ALP XIII, CEO of O'ahu Fresh and Co-Owner of O'ahu Food Hub. This operation put all others in perspective from the local and small farmer point of view. Truly connecting the farmer to the kitchen tables where their food will be enjoyed. We visited the idea of the challenges that small farmers face when starting out on O'ahu, O'ahu Fresh is helping to work through some of these challenges. Matt is a true leader of grassroots efforts. His staff were all smiles (through the masks!). You could see the positive work environment in every room.
O'ahu Fresh started more than ten years ago with the desire to bring more flexibility to farmers. They partner with 100 farmers. They normally have 1200 orders a week with a spike of 1500 during COVID. O'ahu Fresh leases space to other producers for dry storage, cold storage as well as has certified kitchens available for producers to utilize. Companies like Shaka Tea and Ulu Mana started with O'ahu Fresh. As Matt stated, "these spaces allow a small business to grow out to their true potential". They are currently working to get more funding and partners. They have outgrown their current location and need to purchase a larger building so they can assist more farmers and businesses.
We walked through the building entering to the site of a food truck. It was explained that the food truck can be certified by the Health Department and utilized to fry. Operations that fry must have a grease trap. They don't have a grease trap on site, but the food truck, although mobile, has a grease trap. Business can fry in the truck and the truck can then go to a location with a grease trap. Everything legal! The area around the truck was shelving units filled with various products, packaging and stock for various businesses that utilized the space.
Through a door was a fairly large, certified kitchen which were leased on a monthly rate to various producers. A small staircase led up to a little room where one of the business utilized it for taste testing (pre covid). Another door led to another small, certified kitchen. This one was for those business that wanted a kitchen to rent by the hour. A way to test the waters for their product prior to committing.
Through another door we were in a large warehouse full of cardboard boxes. O'ahu Fresh is a part of the Kau Kau for Keiki program offering up food to the keiki during the summer months. Receiving and distributing various food items to the community is just one aspect. Through another door, we entered yet another certified kitchen. This one leased to a single business. They hope to have more kitchens to help more producers. There are goals to have kitchens that are certified kosher, certified gluten free etc. Sharing the cost means more small businesses, more farmers getting their product out.
We went up a back staircase to yet another small room. An office. The office. A small round blue business table was in the center. The table fit the seven of us comfortably. As we sat around the table, it became obvious that many people have sat around this table making many important and life-changing decisions. Choices regarding packaging, pricing, distribution; choices made by owners of small businesses. This table wasn't intimidating as the others we sat around that day, yet perfect to make one feel as if the decisions being made were important and straightforward. Real business decisions affecting real business owners.
Off to the side was a laser printer with reminders to put regular paper back in the printer when done printing labels. A white photography box on top of that, utilized by the various producers to take that professional white background photo that is required for sales sheets. A working office for the small business. It was the perfect end to the whirlwind week that we had. A place of grounding. A place of leadership. Thanks, Matt, for allowing us to have our debrief in this room. We hope you get your bigger building with more kitchens, more space, more room to help more growers… but I personally hope that you bring that perfect blue business table!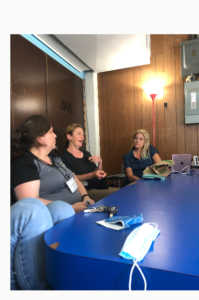 And, that was a wrap for the day..a day that was definitely not "rinky-dink," a phrase we learned from one of our visits that we're all sure to remember! Thanks for following along with ALP Class XVII!