Waking up at The Kamuela Inn Waimea is a great way to start a day full of adventure. Continental breakfast was available with coffee, yogurt, muffins and granola. The schedule had us departing from the hotel for Bird and Bee Hawai'i at 8am.
Arriving at the gate with the shark on it, we head up the drive way and are welcomed by Susan and the turkey. Susan prepared a great breakfast of quiche, fruit, cornbread and two different honeys from Bird and Bee Hawaii! We were able to enjoy breakfast outside on the farm seeing the sun shine through the trees and watching the bees traveling in and out of their hives.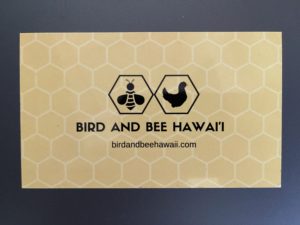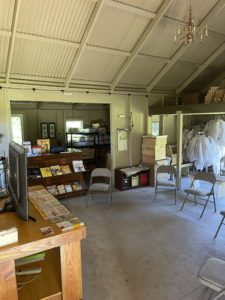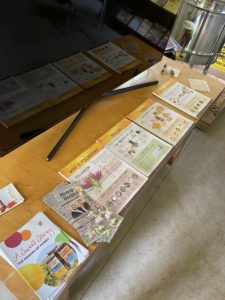 Our second location visit on Monday was at Kawamata Farms in Waimea, home of Kamuela's Finest produce. We arrive outside the greenhouse and are welcomed and warmly greeted by Leilyn Kawamata (daughter of Raymond Kawamata). We are escorted to the packing building where we have the opportunity to introduce ourselves. We learn more about what we are seeing and how the Kawamata tomato is grown, packed and distributed.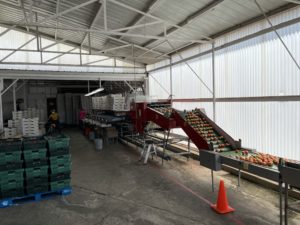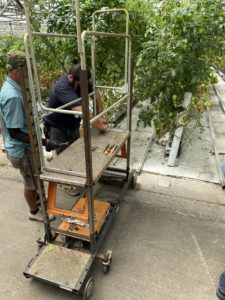 Raymond and Leilyn shared with us the many challenges of farming and how a manual back up or option can provide the same solution as a high tech or expensive sensor can. The example provided was they installed a bleed line in the irrigation line so if the floor is wet in a small area they know the irrigation is running. Low tech but high value insight to what is happening in the greenhouse.
A common theme identified by many of the locations we visited was a lack of labor. At Kawamata Farms the lack of labor has impacted their ability to run their pack line and equipment at scale. Resulting in product having to be packed in smaller volumes and by hand.
As we were preparing to depart Raymond surprised us all with signed copies of his new book "Too Big to Lose" " A small farmer's ten year battle against Dupont" a quick read on Raymond's battle against Dupont and how and why he became a tomato farmer.
For Lunch we had the opportunity to meet with Parker Ranch team members and ALP Alumni Keoki Wood (ALP Class XI) and Jacob Tavares (ALP Class XV). The recent fire on Parker Ranch land was a major topic of conversation and was addressed openly and candidly by Keoki and Jacob. The fire will take years to recover and rebuild water infrastructure and fencing. The connection and stewardship of land by ranchers was interesting and eye opening. I was pleasantly surprised to hear them identify as land conservationists and grass farmers and not cattle producers. The many years of good ranching practices and tending to the soil will hopefully aid in a quick recovery to the land.
The Parker Ranch has a strong connection with the land and community. The Parker Ranch Foundation Trust serves its beneficiaries to include: North Hawaii Community Hospital, Parker School Trust Corp., Hawaii Preparatory Academy and the Richard Smart Funs of the Hawaii Community Foundation.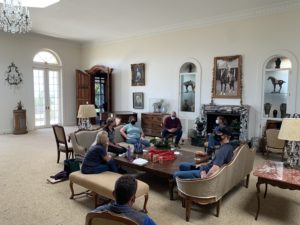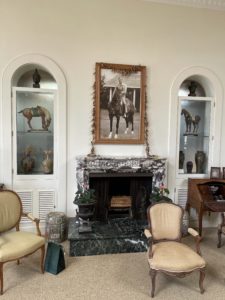 After lunch at Parker Ranch headquarters it was time to head out and connect with Dash Kuhr and see the HIP Ag (Hawaii Institute of Pacific Agriculture).
HIP Ag Mission:
To Practice and teach regenerative agricultural education programs.
HIP Ag Vision:
Heal and inspire Hawaii through resilient agriculture education.
HIP Ag seemed to like they had to put many of their community and fund raising events on pause during covid. Before covid HIP Ag would host farm to table dinner events but gathering restrictions and group size limits has HIP Ag hitting pause on farm to table dinners for now.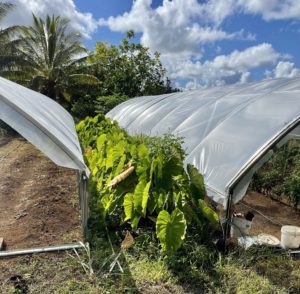 The final farm visit for Monday was Island Harvest, an organic macadamia nut farm in Kohala. We had the opportunity to meet with Nathan Trump the General Manager of Island Harvest. Nathan described the harvest technique used and even field demonstrated how the equipment worked for us. Nathan was able to describe the equipment used flow of the nut from the field to processing facility.
Key to the success of Island Harvest is their organic growing practice creating additional value to their product and then adding a value added chocolate covered MacNut line positions them for growth in the future.