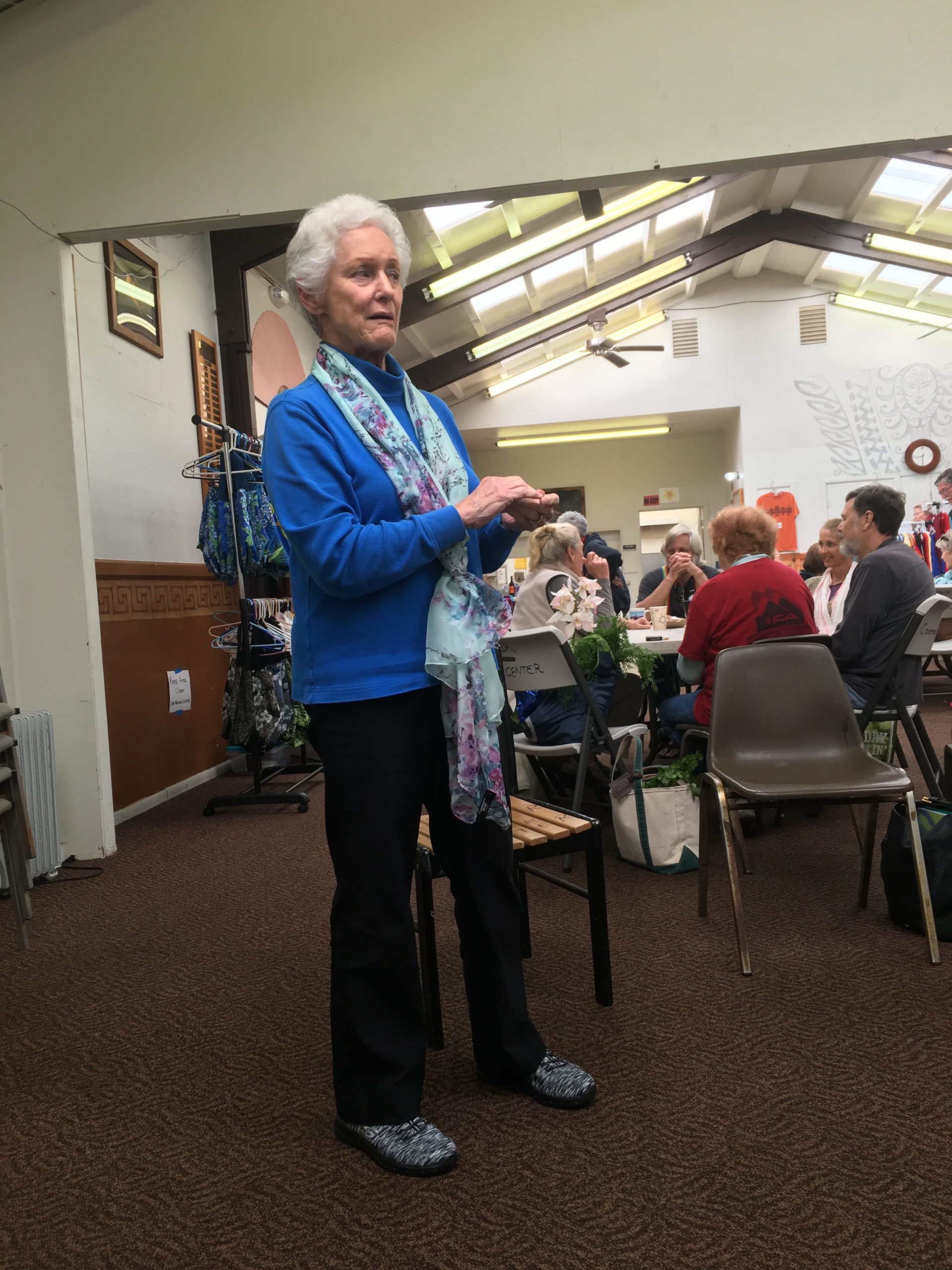 Day 4 of ALP Class XVI Seminar 1 found us rising early to head to the Volcano's Farmer's market for a delicious breakfast and discussion with Volcano Farmers' Market Manager Linda Ugalde. The farmers market is one of the many special things that take place at the Cooper Center in Volcano Village. Run by a small non-profit called the Cooper Center Council, with a mission of bringing the community of Volcano, Hawaii and surrounding area into a cohesive group, it was easy to see that this is the true heart of the community for many local residents. Farmers and crafters alike enjoying selling their items at the market and the fresh food that can be enjoyed affordably was fantastic! Class XVI enjoyed our discussion with Linda and took away so much from the commitment and level of involvement that connects this community. As a side note, we enjoyed Linda's words of wisdom…"Any meeting over one-hour is too long." We're definitely going to remember that!
Our morning continued when we met Joan Yoshioka, (ALP Class XIII), Statewide Plant Extinction Prevention Manager, and then visited the Volcano Rare Plant Facility for a rare look at endangered plants grown in a specialized nursery for out-planting in the wild. Since 1993, the nursery has propagated more than 75,000 threatened and endangered Big Island plant species! We were so impressed with the work of Patty Moriyasu, Nursery manager and Research Associate, and the recent weeks have left us wondering how this amazing facility and its plants are holding up to the ash and change in air quality from the recent volcanic activity.
Let me sum up this visit by sharing a few things that left an impression on me:
Patty has been successful in propagating and growing plants from various elevations, ranging from sea level to high elevation plants all at this facility.
Hawaiian plants were not genetically diverse initially. To have success, Patty tried to get a sample of the population that remains and then when plants are ready for out-planting, they are planted in areas that are protected (fenced, animal control, etc.) and the hope is to reintroduce enough of a species back into the wild that they can then pollinate successfully on their own.
Patty's efforts, and the efforts of others who are part of the rare plan nursery system around the state, are doing their best to preserve what came before. Hawaiians have always had a deep relationship with plants and the work they are doing perpetuates this relationship.
We wish Joan, Patty, and their team the best of luck with their efforts! Read more about this awesome program!
Moving along with our exploration, but before we said "A Hui Hou," we enjoyed a great visit to Jeff McCall's Flower Farm (ALP Class III) where he grows much more than flowers! Jeff showcased the diesel-powered steam generator he uses at his farm to kill pathogens and pests in the soil. Steam effectively kills pathogens by heating the soil to levels that cause protein coagulation or enzyme inactivation. Biologically, the method is considered a partial disinfection. Important heat-resistant, spore-forming bacteria can survive and revitalize the soil after cooling down. Steaming leads to quicker growth and strengthened resistance against plant disease and pests without the use of fertilizers. Jeff grows a large variety of crops on his farm and it was interesting to hear about different varieties he has tried over the years and the challenges and successes.
Mahalo nui to Diane Ley (ALP Class VII) who welcomed us to her home where the group enjoyed a fresh lunch, spent time debriefing and evaluating our seminar and then said "A Hui Hou." We will meet again on O'ahu in August of 2018.