After our visit at Frankie's Nursery we headed north along the lovely windward coast to Waiahole Valley and the beautiful Reppun Farm. We were hosted by our classmate Nick Reppun and his Dad Charlie. Over lunch Charlie gave us a history of their family farm that he and his brothers started in the late 1970s. It is hard to believe back in the seventies the land in Waiahole Valley was slated to be developed into a residential neighborhood. The Reppuns and other farmers in the valley were able to keep this from happening. The had to stand up and endure through not only development challenges, but water availability too. Thankfully they prevailed, halted development and by working with the water commission and through litigation ensured that there would be water for the farmers to grow in Waiahole Valley. We can all be thankful for the dedication and hard work of the Reppun family who were a big part of keeping the Waiahole Valley in agriculture.
Nick showed us around their amazing property through plantings of corn, coffee, bananas, chocolate, taro and tomatoes to name a few.  We also made a stop at their commercial kitchen.
The pictures don't do justice to the beauty of this place. The family all live off the grid with assistance from micro-hydro systems and solar power. The Reppun family are also deeply committed to education and sharing their knowledge. They have hosted thousands of students over the years on their farm. As a testament to their impact our next host fondly recollected his field trip to Reppun Farm some 30 years ago. Keeping Waiahole Valley in agriculture, growing agriculture there, sharing their agriculture with the community and now moving agriculture into the next generation makes the Reppun Farm not only a great example for all of us, but a treasure of Waiahole Valley.
We made our way back to Kamehameha highway and headed on north to Kualoa Ranch where we met up with Taylor Kellerman, Director of Diversified Agriculture and Land stewardship there. Taylor is an alumnus of a Reppun Farm field trip years ago, as well as an Ag Leader alumnus from Class XV. We met at the visitor center teeming with tourists shopping, eating and loading on and off buses. Definitely a bustling place. Taylor took us on tour around the Ranch and like all of the visits that day, we were treated to more than could have imagined. There was a grass-fed beef operation, shrimp, pig, sheep and oyster production along with bananas, papaya, chocolate and taro. In addition to the range of agriculture and production systems there are the sweeping views that provide the backdrop for the horseback riding, ATV tours, ziplining and movie tours to name a few.
Agro tourism is thriving at Kualoa Ranch and it serves as an excellent example of how tourism and agriculture can support each other. The food produced on the farm is used directly in the restaurants and the plants and animals growing on the ranch provide the sought-after open spaces and scenery for visitors. There is also an opportunity to educate the public about agriculture as well as the deep history of the land. Kualoa Ranch is also very involved with community in many ways and in particular education and field trips for students.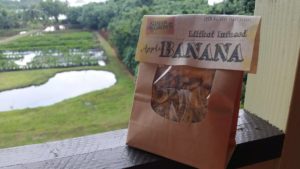 I encourage you to visit Kualoa Ranch when you are in the neighborhood. There is so much to see and do. You can enjoy a shrimp plate featuring shrimp that was harvested less than 24 hours before it is being served to you. I already can't wait to get back to the windward side of Oahu to revisit all the sights and tastes of this wonderful day. It was also inspiring to visit such successful and thriving agricultural operations each different from the other yet sharing the common themes of creativity, learning, working through adversity and the strength of family.