Seminar 2 Day 2 – Oah'u
Our day began nice and early at the United Fishing Agency Fish Auction…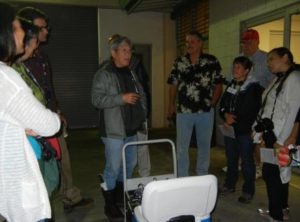 Brooks Takenaka spoke about how values of honesty and work, science, marketing, partnerships with local culinary programs and visiting university students, are all used to maintain success of the auction and quality of their product.
The Hawaii fleet is all domestic and consists of 135 longline boats (which may use up to 40 miles of line).
Their main catch is big-eye tuna (ahi), and in lesser amounts swordfish, yellowfin (ahi), skipjack (aku), and marlin, with a value of over $100 million per year.
Russell Ito from NOAA described some of the measures taken to reduce by-catch of marine life (turtles, seabirds) including the NOAA's observer program, timing and depth of long line sets, and barb-less hooks.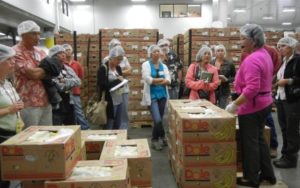 Tisha Uyehara walked us through the Armstrong Produce's facility showcasing their tracking system, climate-controlled chillers (brrrrr!), inspection, and sanitation procedures to keep our fruits and veggies safe and fresh through the transport and distribution process.  Doing our part for food safety with our jellyfish-like caps.
Nami Ohtomo, Strategic Planning Manager, explained Young Brothers ("YB") inter-island transport system of barges, tugs, packing & loading methods, and containers (like the "reefer" used for some agricultural products and other items preferred cold).  [Pauline's hard hat the moment before it fell]
Diane Ley (alumnus, Ag Leader Board member, farmer, entrepeneur) updated us on important Federal legislation (Farm Bill), and shared about USDA's numerous programs/agencies (18!!!) to see what was available to local agriculture and help the class decide which programs we may want to visit in DC.  Sydney hosted us during lunchtime at Kamehameha Schools offices at Kawaihao Plaza.
Our day ended at Na Mea Hawaii at the Ward Warehouse.  Their vast selection of Hawaiian books and things was an appropriate venue for the excellent presentations given by Miki, Lisa, and Tina.  Dinner was from Umeke Market and some delicious poi from Kakoo Oiwi in Kaneohe (led by Koa Shultz, Class XIII).
[will add more]