This was the common message echoed on our visit to Kauai. Our day started at Grove Farm in Lihue, the largest private landownership in Kauai. Passion driven is how I would describe Arryl Kaneshiro, a 4th generation farmer, Kauai Council Chairman and Grove Farm Project Manager and Dave Hinazumi, Vice President of Grove Farm.
As a kama`aina company, Grove Farm is committed to leading Kauai's community and economic development, while being a responsible steward of its aina. Diversity is the way Grove Farm is managing the 38,000 acres, once sugar plantation lands from 3 districts (Grove farm, Koloa Plantation & Lihue Plantation).
In its transition from a sugar plantation to a progressive community and economic development firm, Grove Farm is a leader in social entrepreneurship and island-enhancing initiatives. By remaining kama´aina-focused, Grove Farm enhances Kauai's communities through a holistic approach to development and is deeply committed to preserving the island's cultural and historical linkages.
One of the key points made during this visit was the example of Pioneer Seed Company now Corteva Agriscience pulling out from lands in Koloa managed by Grove Farm. Pioneer Seed Company were very good tenants that paid a good price to lease the lands. Now they had to find 10 new tenants to lease the lands making it more challenging for Grove Farm.
To survive in Hawaii it is becoming clear that having large seed companies like Corteva helps to bring stability and sustainability to farming in Hawaii.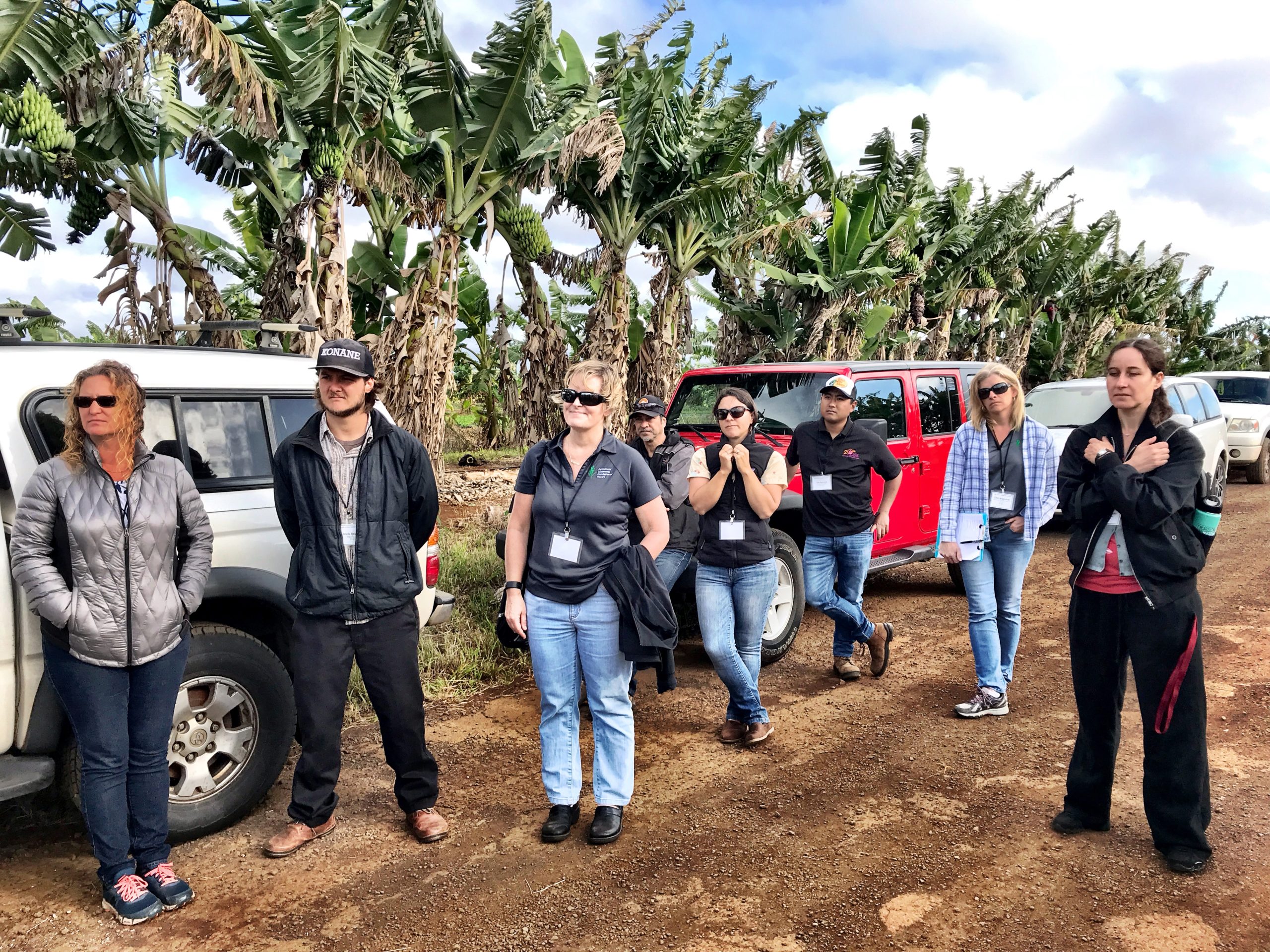 From Lihue we drove to Kekaha to have a tour of Kauai Shrimp Farm with Mike Turner, General Manager and David Anderson, Assistant Farm Manager.  Kauai Shrimp is an aquaculture operation growing shrimp as a source of protein without the necessity of depleting wild stocks for human consumption.  The shrimps are well taken cared of from breeding to the finished product and handled with care as we got to see first hand.
Kauai Shrimp is know for its sweet taste, firm texture and freshness. As a farm to table chef, I enjoy cooking with superior products like Kauai Shrimp. It is so flavorful and it does not require much seasoning. What contributes to the beautiful flavor of the shrimp is the fresh salt water that is pumped from 550 feet depth.
What excited me was when Mike Turner brought out some Kumamoto Oysters. At this moment, they have only a small production. I got to sample the fresh shucked oyster and it was divine! Kumamoto Oysters are small oysters with a sweet mild ocean flavor and is one of the prized oysters that fine dining restaurant source for their high end clients.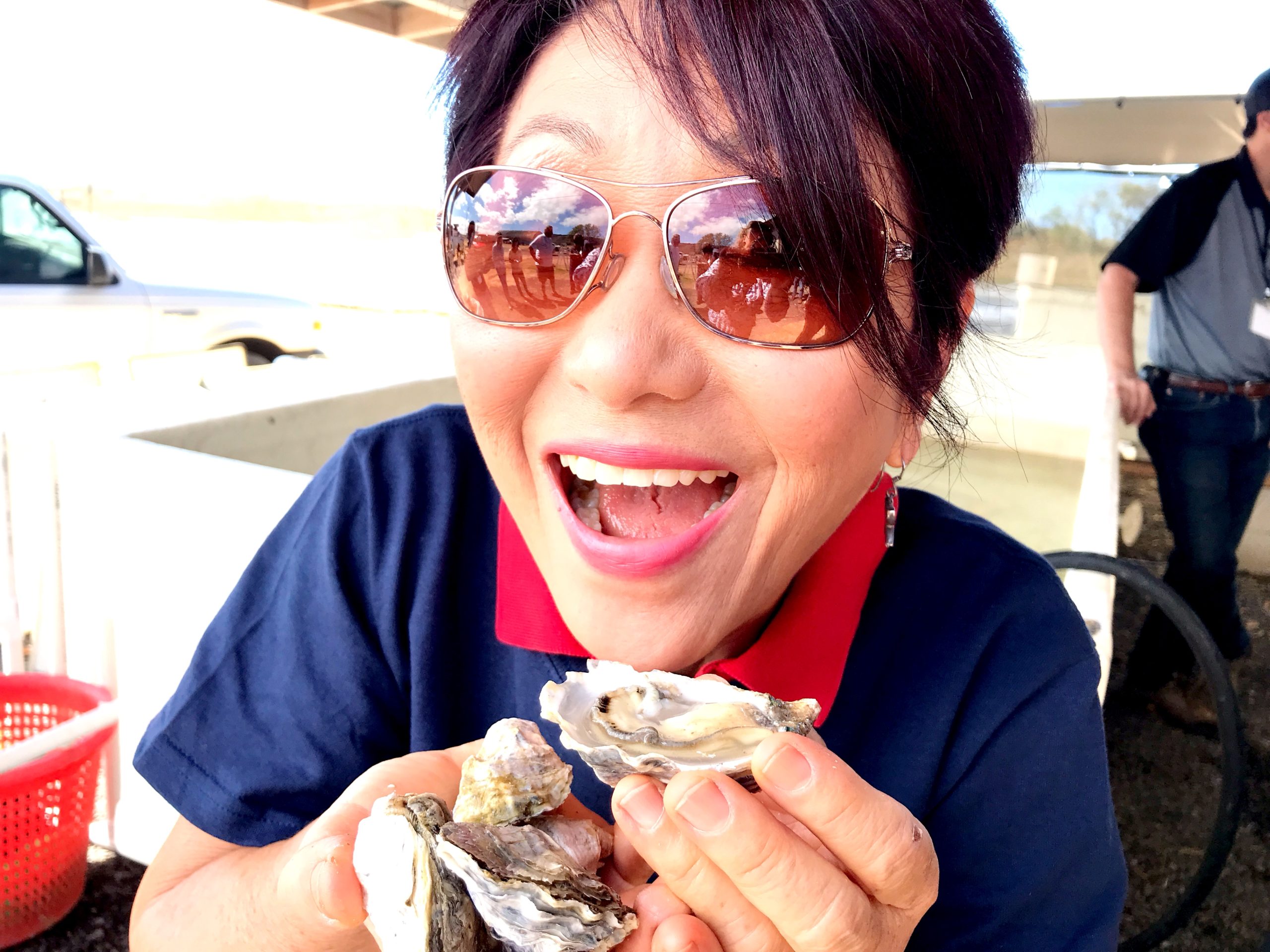 Our next stop was to Corteva Agriscience formally Pioneer Seed Company where Site Manager Judith Rivera hosted our delicious lunch.  Judith is an agronomist & formally a professor at University of PR Mayaguez Campus in Puerto Rico teaching soil science, soil chemistry, mineralogy and sustainable agriculture.  After lunch, Judith Rivera gave an impressive talk about Corteva as a global company and the exciting expansion for the Waimea Station.  Judith is the first female site manager in Kauai in a male dominated business.  It was refreshing to see females in the Agriscience business.
What is impressive is that the Hawaii Corteva team has been successful sustaining targets above 90% for the past 6 years. The Waimea Station is one of Corteva top station's.
The unique weather in Hawaii provides the window to plant 3 times a year. Corteva has a fallow period to plant corn in the west side that results in better pest management, better results and reduces the impact over the environment.
After her talk we had a tour of the lab and high tech robots. It was fascinating to see how technology is used in research and how it can provide the information much more efficiently and effectively.
After seeing huge containers of corn seeds, we were treated to freshly made popcorn cooked with Plenish Soybean Oil. The Waimea Station is proud of this product because lots of research was done at this station. Some of the benefits of this oil is restaurants that use deep fryers would have longer frying time & reduce cleaning cost. Plenish high oleic soybean oil's exceptional stability also allows it to be utilized by the chemical industry as a renewable, environmentally friendly alternative to petroleum-based products. www.plenish.com
Judith ends her talk by saying, "Community is important."  For the last five years, Corteva Agriscience Waimea Station has put on the  Annual Harvest Ag Festival building bridges to connect the 8,000 attendees from keiki to kupuna back to agriculture. 1000 pumpkins are grown and donated by Corteva Agriscience.  Ag leadership alumni Joao Kopytowski Filho, Agronomy Scientist capstone project was growing 1000 pumpkins for this event and  it continues to brings joy to the community.  The festival highlighted the importance of farming and celebrated West Kauai's signature event. 
Corteva core team leaders: Judith Rivera, Joao Kopytowski Filho and Mark Stoutemyer are Ag leadership program alumni's. Corteva is supportive towards the Ag leadership program and encourages manager to develop interest in local agriculture and to support local farming.
Now we were on our way to Kalaheo to visit Bob Gunter, CEO of Koloa Rum Distillery. Bob provided us with an informative tour of the facility and shared his marketing strategy as the company sales continue to grow.
It was impressive to see all the awards won from the variety of rums that he has entered in different rum competitions. We sampled one of his prized Reserved Rum. It was smooth, well balanced with a hint of sweetness.
In the near future we can look forward to Koloa new site with a beautiful cafe, tasting room and a 45,000 sf production facility surrounded by cane fields.
Koloa Rum is now served on Hawaiian Airlines flights, so next time you may want to order a glass of Koloa Rum and it will take you to heaven high in the skies!
Our last stop on Aloha Friday was at Hanapepe Art Night where we enjoyed live entertainment, sampling the savory foods from the food trucks, outdoor restaurants and people watching.
We were blessed with an anuenue (rainbow) as it appeared for a moment then it disappeared. What a beautiful way to end the evening.