"Upcountry Maui"
Laura Rieber
It has been a tough year for our cohort due to covid, but what we have learned is priceless. True leaders learn to pivot continuously and act as if it was effortless. They never give up and learn to go with the flow, mitigate confrontation, inspire change, and continue to grow. Agriculture is difficult to begin with and throw in the inability to connect face to face and work together makes the industry extremely challenging… a challenge that our hosts in each of our site visits today have proven true leaders of.
We started off by driving "upcountry". Our first visit was to meet with Ryan Earehart of Oko'a Farms a pioneer in the straight to the consumer movement. With 14 employees (20 if you include the family), Oko'a farms is Community Supported Agriculture (CSA) at its finest. We went to a farmers' market, but not the typical farmers market that comes to mind – this market is now centered around one farmer. The farmer that continues to impress his customers with eye catching and beautiful fresh produce immaculately displayed on several tables. This matters to the consumer and it is something Ryan actively trains his staff to notice. Who wants second grade produce?
There were a few other vendors at this market, but the lines were for Oko'a Farm stand. Ryan is the leader of this family farming business. They have been leasing the land that they grow a variety of fruit, vegetables, and root crops (over 30). However, COVID has brought with them enough success that they are in the process of purchasing the land. They have grown their customer base up so that they are also finalizing plans to move into a permanent brick and mortar location as to be able to better meet the demands of their customers.
Ryan shared with us the struggles and triumphs of being an organic farmer in Hawaii. He doesn't believe in undercutting his own farm to fulfill the demands of big box stores single item purchases. His customers come to him for the variety that he continually has available for purchase. It is a struggle to have such a variety, but the customers repeat purchase and constant support makes the labor-intensiveness of some crops like parsnips worth it. As no one just gets parsnips, they get carrots, eggplant, kale, bananas, oranges etc. But without the parsnips… he would be like every other vendor. Not only does he have the variety, but he also has the enthusiastic customer service to back it up. With COVID, the farm stand had to pivot from the traditional, "pick your own produce" to an awkward "no touchy" of the produce. Rather than make it problematic, the staff began to provide a true one to one service. The staff brought over several produce for their customers to choose from and in the end… the customer feels good about the purchase and often would buy more.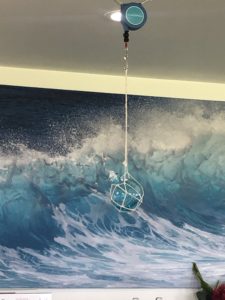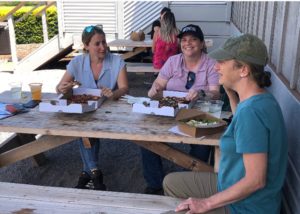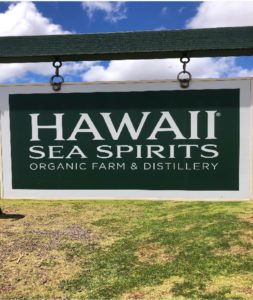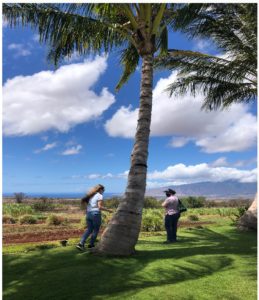 4051 Omaopio Road Kula, HI 96790
After we too purchased some produce, we headed to another organic operation… Hawaii Sea Spirts the creators of Ocean Vodka. What an amazing 80 acre "upcountry" farm. We walked out of the gravel parking lot to an immaculate and inviting grass lawn that dropped off like an infinity pool to the view of the vast ocean, west Maui mountains and the valley floor. Perfect setting to grab a chase lounge chair, cocktail and talk story. Which we did after we enjoyed an amazing lunch at their on-site diner Café at the Point.
We sat down with the founder and president, Shay Smith himself who revealed how Ocean Vodka got started and how COVID is influencing their current decisions. Shay shared that agriculture was not his "core competency" and learning from others has proven to be the anchor of his success. What started out as a small-family start-up is now becoming a leader in Hawaii's growing alcohol industry. For Ocean Vodka it is about high quality. From the fact that the sugar cane is grown organically in a small farm setting, to utilizing ocean water which contains minerals that other alcohols just don't have and the base of the awards that it has received. The unique bottle came with its own set of hurdles… but have you noticed how often you see the iridescent, ocean blue mooring buoy look alike? The Ocean Vodka bottle is everywhere… including at the cash register in WholeFoods Throughout the conversation, pivoting seemed to be the key to a successful farm business.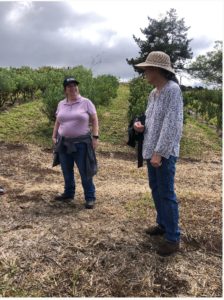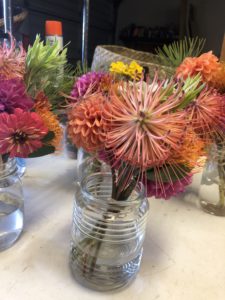 1-808-878-6382
malolofarm@aol.com
We made it back up that curvy road and further down to Kula. As we made the last turn and looked up. The once blue skies were had darkened with heavy clouds, and the rain sputtered. We went down a small driveway to what looked like a residential area and ended at a small house. At that moment, a storm broke out with heavy rains immediately causing rivers in the driveway, small ponds, and moisture. Ali Minney of Malolo Farms came out to greet us and soothingly told us, "it will pass, we're in Kula". She welcomed us into her garage / flower packing area / wood workshop / dry space. The rain pounded outside so hard that it was hard to hear each other speak just six feet away. We were reminded calmly and sincerely… "it will pass, we're in Kula".
We gave our introductions, and she shared the history behind Malolo Protea Farms. COVID brought a subtle stop in business alongside the sudden stop in tourism, large events, weddings etc. Malolo Farms is just under six acres and focuses on an array of cut flowers including protea. Even through the shutdown she and her all-female team remained optimistic and knew eventually that this too shall pass, just like the Kula rain. Work went to other ventures while maintaining the plants. Over the last year, and with the help of her daughter, the farm made a pivot with the new growing demand for agritourism and desire to see firsthand the flower farm… the rain did pass. The sun came back out and we were able to walk around this beautiful, unique flower farm learning about the different varieties, pruning practices and flower care… no wonder her agritourism venture is growing and providing additional income.
We left each with a bouquet of flowers in which made each of us individually feel special, unique and happy… the overall feeling of Malolo Farms. Mahalo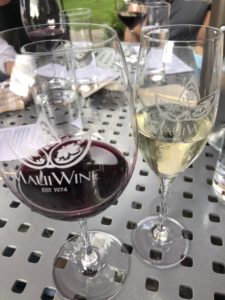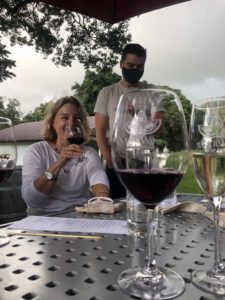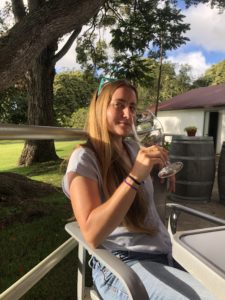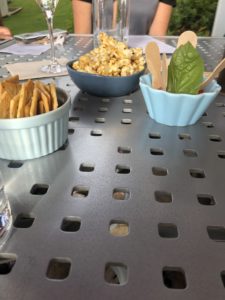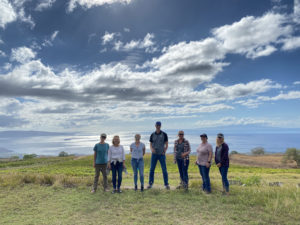 14815 Piilani Hwy, Kula, HI 96790
Our last stop of the day was another half hour down the narrow curvaceous street to mile market 20.5. Turning off the narrow highway we followed our host past another eight-foot-high deer fencing. Maui is inundated with deer. Deer that devastate farms and ranches. Eating foliage off ornamentals, natives, vegetables, young trees etc. Those who practice rotational grazing are losing their next rotations feed to the deer who move just ahead of the ranchers. The only way to prevent them is a deer fence. Tall, expensive yet a necessity.
The Maui Wine vineyards were an amazing sight. The backdrop to the estate was nothing short of impressive. The vineyard sits on high enough elevation to see the entire island of Kahoolawe and all Kihei Town. The bright blue skies accented the green grass and grapevines. Straight out of a picture book of when dreams come true. Perhaps that is why Paula Hegele, President of Maui Wine is so enthusiastic. Her energy was enlightening, motivating, and enticing. Exactly what you need to ensure a successful winery in "upcountry" Kula. People drive from all around the island to experience this… and it is worth it. Agritourism is a difficult venture for most farmers, especially with the regulations that are emerging and to inspire a continuous flow of visitors takes people like Paula and her two sons Joe and Henry Hegele. Joe shared his inspiration on how to keep positive during difficult times, adapting to the ever-changing environment, failing varieties, successful harvest, regulations, people and the times.
We were then welcomed to taste the array of wine grown and offered by Maui Wine. We met Henry an aspiring wine maker who shared passionately about the different varieties of wine offered including the Syrah, Malbec, Grenache, Chenin Blanc, Viognier and Gewurztraminer. Not only was the wine amazing but so was the food. Each dish that we sampled was as divine as the wine. The truffle chips were addictive. The spicy popcorn was amazing. The care and innovation combined with the family's passion feels like the backbone to the entire enterprise. Its worth the drive… its worth the time.
The theme of the day seemed to be that COVID strengthened each of these businesses because they continually pivoted with the curves that came ahead of them. Just like the roads to and from "upcountry". You can't go straight… if you do… you won't find yourself on the road… but in a ditch. You must keep turning as the road curves, you must keep alert looking far enough ahead to be prepared for what just may come. You must learn to be patient through the downpours knowing they are frequent yet temporary. You must remain optimistic, learn from the mistakes yet keep experimenting until you find what works successfully for your business and your consumer. This seems like a definition of a leader that is relatable across many agriculture ventures. We also learned that sometimes, when the curves become overwhelming, you must stop on the side of the road and let nausea pass. A positive to CoViD 19… we can easily see who the true leaders are.
Thanks for reading along…