Building on Day 1 of our workshop with Donna Ching, we continued learning and practicing techniques for working productively with individuals and groups that have divergent views on important issues.  At the end of our day together, we joined forces with youth leaders from the Future Farmers of America (along with their teachers, parents, siblings, and other supporters) to celebrate their achievements and talk with them about their educational and career plans and our own life experiences.
Four Key Points
1. Build a network and be ready to help each other

During Workshop Day 1 (and the afterparty!) we bonded and commiserated with new colleagues from Agricultural Leadership Program Class XIV, the University of Hawai'i at Mānoa College of Tropical Agriculture and Human Resources, the Hawaii Cattleman's Council, the State of Hawai'i Division of Forestry and Wildlife, and Hawai'i Green Growth.  Today, as we honed our facilitative skills together, Donna raised an expectation of calling on each other in the future to practice and apply these skills by serving as neutral, "empty vessel" facilitators and recorders for meetings and other group events.
2. Repeat after me
The active listening exercise took us out of our comfort zones by forcing us to use our own voices to repeat an opposing viewpoint on a heavy issue.  This can be a useful tool for breaking down communication barriers between parties with extreme differences of opinion.  Instead of thinking about how to respond to an opinion with which one doesn't agree, the listener must focus on remembering the details of the opinion spoken.  Giving those details back to the speaker, accurately, can go a long way towards building mutual respect and discovering commonality.
3. The play's the thing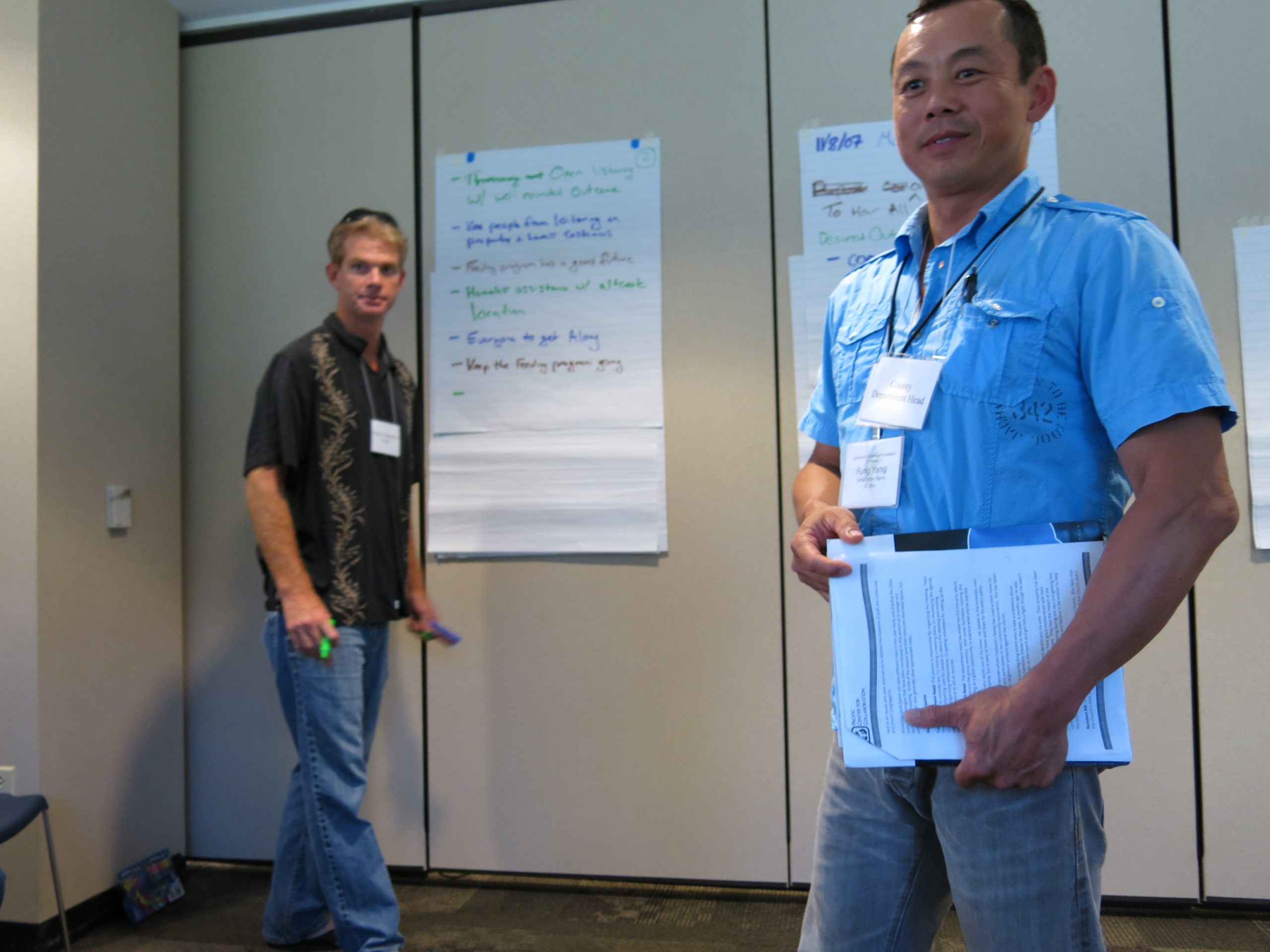 Many members of our class have plenty of experience with contentious community meetings, and they repurposed that material to the max during our practice exercise for meeting facilitation and recording.  Role playing is a helpful tool for improving communication and leadership skills, and the inspired acting by our cast of characters was almost as entertaining as the actions of their true selves!
Through this mock meeting we learned about forecasting and handling difficult situations, applying the guidelines and principles introduced in Day 1 of the Workshop.
4. Feed the Youth
We closed the day at Honolulu's Mission Social Hall & Cafe with a wonderful reception for high school students who recently returned from the annual Future Farmers of America (FFA) Leadership Conference in Washington, D.C. These students received Agricultural Leadership Foundation scholarships through a grant obtained from the City & County of Honolulu. Fueled by a variety of comfort food from the kitchen of Chef Mark Noguchi, members of Class XV were the subject of speed interviews conducted by O`ahu ag leaders from Kalani, Leilehua, McKinley, and Waipahu.
Another Future Farmers of America event will take place on O`ahu on Saturday, September 19 from 9:30 am – 1:30
pm at Leeward Community College's Halau Ike O Pu'uloa. Teachers, family members, Agricultural Leadership Program participants, and community members are invited to come and support FFA students in their journey to be agricultural leaders.