I could feel the proverbial weight of sensory overload and crammed metro stations lift off of our should as we left the metropolitan area of our nation's capital on a near empty metro line for rural Maryland.  It was a relief to breath the open air as we stepped out of the metro station and met with Dr. Janet Slovin to head out to the Beltsville Agricultural Research Station.  Her passion for agriculture was immediately apparent, and we could see why, once we began our tour of their facility.  Having met with members of The House and Senate Ag Committee's, it was great to see where the policy and dollars were being spent so close to the center of our democratic system.  Where the rubber met the road.
First stop was their dairy, where they were doing production based research on milk manufacturing to help meet our ever growing domestic demand.  The dairy industry in Hawaii has been decreasing dramatically over the last twenty years, similar to that of agriculture in general.  Similar to other industries, it quite simply is more economical for us to import finished dairy products to the consumers in Hawaii than it is to maintain or establish operations locally.  The millennials such as myself that were born and raised in Hawaii have probably never seen what a dairy operation even looks like, as the only two production facilities existing in the state are located in rural areas of Hawaii island.  Because of that, even ag enthusiast find themselves becoming more and more separated from what goes into creating our milk products.  With an effort to expand a recently purchased operation on the Hamakua coast however, this experience was very welcomed.  It was eye opening to see the various metrics this industry uses to measure production, animal health, feed intake, and efficient breeding practices.  Dr. Baldwin was very passionate about his work and gave us great insight into what sort of progress they are making to address the milk demand, even as dozens of large dairy operations are closing their doors in California this year.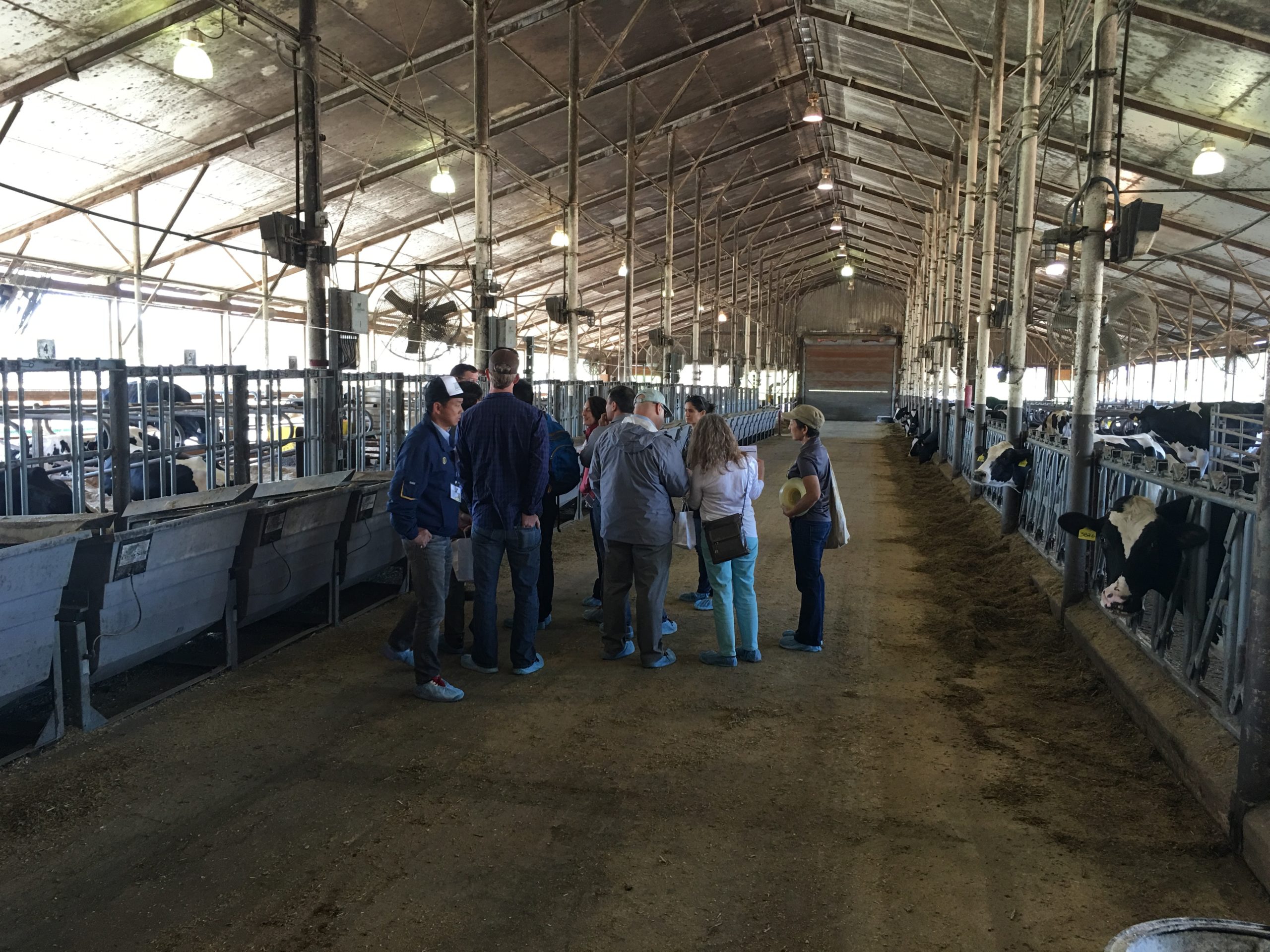 We then spent some time with Dr. Kim Lewers in a few of their strawberry patches, where they are testing growing methods and varietal selection.  Like many types of agriculture, they work to address the many diseases that come up when growing fruits.  One interesting piece of research they are doing is figuring out how to come up with a uniform variety of strawberry that meets the need of both nurseries and fruit producers.  Nurseries desire plants that produce a lot of runners so that they have a sort of seed stock readily available for higher potted plant sales, while fruit producers are seeking varieties that concentrate their growth on the actual fruit rather than the runners.  With the research being done on gene triggering, they hope to find a hybrid that "triggers" the fruiting gene and switches off the runner producing gene at a certain point in the maturity cycle.  We were also given the treat of eating as many strawberries as out tropical hearts desired throughout the educational tour.
On a more applicable note, we had a chance to spend time with Dr. Meihardt, who was doing significant research on cacao and coffee production in an highly technical greenhouse on site.  Cacao for chocolate production is a sector of the Hawaii ag industry that many of us have had exposure to, directly and indirectly, as our state looks to find a suitable orchard crop to add to our unique portfolio of specialty and beverage crops.  We learned that Hawaii is the only place in the US that is actively expanding their efforts to grow domestically, due to our tropical climate.  We currently have approximately 30 acres in production with a few hundred more acres in development this year.  It was great to see the support our federal government was providing us through research, and hope that this continues as we commit more of our resources to this universally desired sweet.  With the coffee berry bore presence having a significant effect on one of our more well known exports this year, the work this station is doing on developing solutions to this concern is critical to the survival of one of our few success stories in Hawaii ag.
Having spent so much time in the previous 3 days with members of our delegation, ag committee staff members, and USDA representatives, it was refreshing to see positive proactive work being done to assist our food producers on  the ground level.   Being so far removed from the continental US, federal programs at times can seem daunting and reactive, with little progress being made to address our growing concerns before the next one is upon us.  Beltsville was a visible representation that the money allocated for the Farm Bill was being used for more than Food Stamps, drought relief, and research that would never impact Hawaii in our lifetime.  The researchers we met with were enthusiastic about the work they were doing, and were quick to point out the many ways their work was effecting even our little state in the middle of the Pacific.