Our day started, as they usually do, on the 17th floor of the Rosslyn Holiday Inn at the Vantage Point restaurant. The summer haze, aided perhaps in part by a touch of air pollution, makes for some fantastic sunrises. And a nice one mesmerizes us as we slop sausage gravy on biscuit, put bread through the toaster conveyor, and wait for the thin coffee to kick in.
Day two of nice clothes means we gear up before getting on the metro. Blouses or dresses for the ladies, sport coats for the men. If you've ever wanted to see a Reppun in a sport coat, you have a rare opportunity in our company.
Nick Reppun in sport coat with King Kam
We board the metro at our home stop, Rosslyn, and head to Smithsonian stop. Having already become veteran metro riders we are unphased by the press of the crowd on the train. We get out and head to the headquarters of the USDA, a bit early so we wait.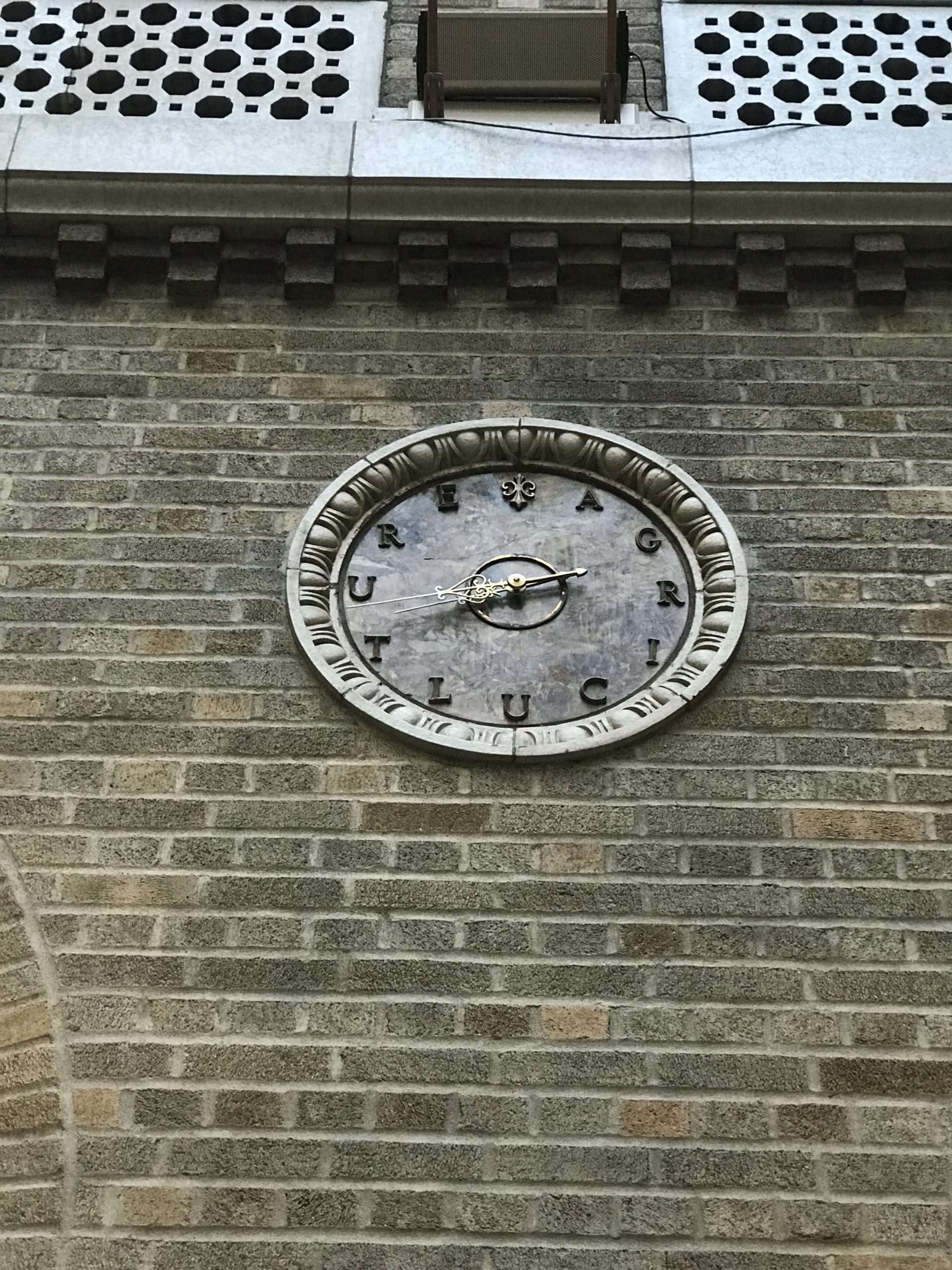 What time is it? Almost 'T' 45! Or a quarter before 'U'
Our USDA visit was, well, interesting. Our first speaker, the kind Kathy Hill, told us all about her HI connections. She is our font of aloha at the USDA. Dr. Robert Holland explained many of the great programs of NIFA, and also told us that the moving of the agency to Kansas City wouldn't have too big of an impact on operations. But with a 90% loss of staff due to the current administrations sudden move, one has to think that they'll be hiring! A few of our next speakers couldn't make it, but we did get a nice gentleman from the market news to share with us about how the USDA AMS tracks and also helps with marketing. Our next stop was the Secretary's dining room. Or, more properly Ag Connections Cafe.
A chance meeting with the leadership of HFUU Hawaii in the Longsworth building
Our next rendezvous was a fateful one. It was with Dave Chun, former staffer with Senator Dan Akaka, and now with Tulsi Gabbard. Dave is the kind of guy who makes you feel that we have some good people in government.
Dave coached us, educated us, and made us feel special and important. And we had a nice discussion about what he does, the state of Ag in HI, and where we are going. Dave stressed that Ag is a business and should be treated as such. In his perfect world farmers use Capitol from the private sector for growth. Dave has good ideas and he shares them. We all speak with passion.
When you look at Dave Chun, you look up.
After that was our most formal meeting to date—with non-HI connected staffers from the house agriculture committee. And we sat at the actual table where they fight over the farm bill! Your class XVI was in top form as we laid out the needs of Hawaii with eloquence and detail. We were a prepared group. Specifics brought up seemed to be considered for the next farm bill and my impression is that our visit is having a tangible impact on the legislative process! However, being new to the game, I am not sure what will come of all of this. My takeaway is that most of those who we have encountered have been diligent and intelligent, in short, excellent public servants. But I imagine that ineptitude and bumbling could also be populous? What a delight to see the best and brightest in some of our visits today, and avoid the other thing.
Class XVI 'the Stairwell Blocking Class'
As I write this it is evening and we are split up around the area. Some going to Arlington, and some to a restaurant called Barley Macs. A few of us hope to meet Dave Chun later for beers and legislative secrets.
Best,
Will Lydgate
ALP Class XVI