First stop, DHHL field office. We heard from our cohort member Gene Ross Davis about the issues that DHHL faces. One of which is water. While many of the lots are fed by a large reservoir, ensuring this supply can be tricky. Due to the size of the reservoir, there is a huge amount of evaporation that occurs, around one million gal a day. We also learned that although DHHL is a state agency they have been underfunded which has provided additional challenges. One of which is helping the families make the land productive. There is also very little enforcement of the rules due to lack of funds.
Our journey continued with a tour of the beautiful Kumu Farm in Hoolehua. Led by the enthusiastic Ettie. As soon as we began introductions the jokes and laughs followed and we found out purple is her favorite color. Ettie is the manager of the farm store where they sell their produce as well as produce and products from other local farms. Their primary and most profitable crops are papaya and banana, they also grow chard, kale, eggplant, fennel, carrots and and an assortment of herbs. Having their own heat treatment facility means their papaya production is one of the only ones in the state certified for mainland export. Most of their production is also certified organic as well.  We toured the farm stand, packing area and the fields. While walking the fields Ettie offered with each new crop we saw "you can pick as much as you like now, but don't come back in an hour with your basket for more!" As we left she loaded us up with papaya, banana and salad mix.
Next stop was a whopping 2 minute drive away to the CTHAR station where we met with Alton Arakaki. He has been an extension agent on Molokai since the late seventies. Alton's commitment to agriculture and his community is clear as he has worked for all these years in applied research and made many wonderful contributions to the Ag community. His mandate he says is to work towards improving varieties and management strategies as well as finding the next "new thing" for farmers.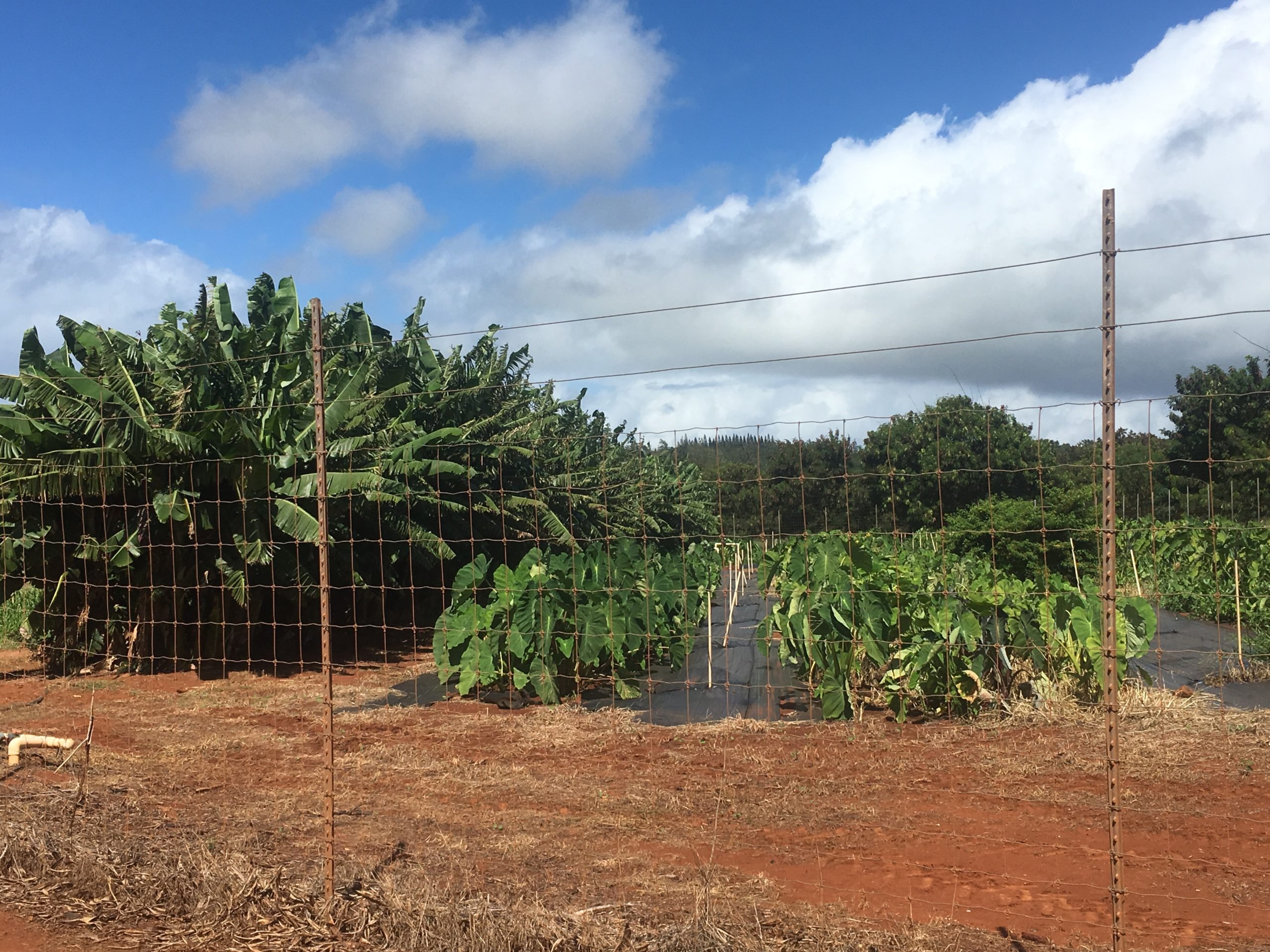 We saw the research plots for Kalo varieties, a native agroforestry system, deer management strategy, water management strategy, and a newer trial of "no chill" peach varieties. Alton also runs a program he calls "Garden to Farm". This program is part of a workforce development grant to help displaced workers. The program also serves veterans. Many of the participants have Hawaiian homelands lots, but don't farm them. The aim is to give people the know how and skills to farm, beginning at a garden scale.The generational aspect of subsistence farming was disrupted by plantations and the knowledge line was cut. So now Alton is helping folks regain the knowledge so that they may continue the deep tradition of subsistence farming on Molokai.
After our lunch we had a presentation by Jennifer Hawkins who works with CTAHR and DHHL to provide program support for DHHL families. She shared about some of their programs including …One that stood out to me was their Generational program that focused of developing communication skills for youth. Many of the kids are raised by their grandparents and will soon need to transition to helping take care of their grandparents. It's a critical time for them to be able to talk about tough issues, so they learn about communication through gardening and cooking. The garden and the kitchen are then also recognized as safe spaces where it's ok to talk about tough things.
Our last visit of the day was to L and R Farms with Lynn and Russell DeCoit and their son Dylan. Both Lynn and Russell come from long time farming and ranching families. They primarily grow the Molokai sweet potato but they also recently started doing contract breeding and grow outs, mostly for corn but they are looking to expand this aspect of their farm. I really enjoyed learning about this operation because it's clear that they have refined their operation over generations. The sweet potato production yields 10-15,000 lbs per week which is almost all sold through produce distribution companies. They plant and harvest every week to ensure constant supply.  Most of the process has been mechanized to maximize efficiency and minimize the amount of hand weeding needed. It was also fascinating to hear how the Molokai sweet potato variety was created. Lynn's grandmother was growing both Okinawa sweet potato (white skin, purple meat) and the Waimanalo sweet potato (red skin, white meat). These two varieties cross pollinated in the field and set seed. Later while harvesting she discovered a few potatoes that looked different and the Molokai variety was born. They continued to propagate and grow this unique variety and now this is the only one they grow.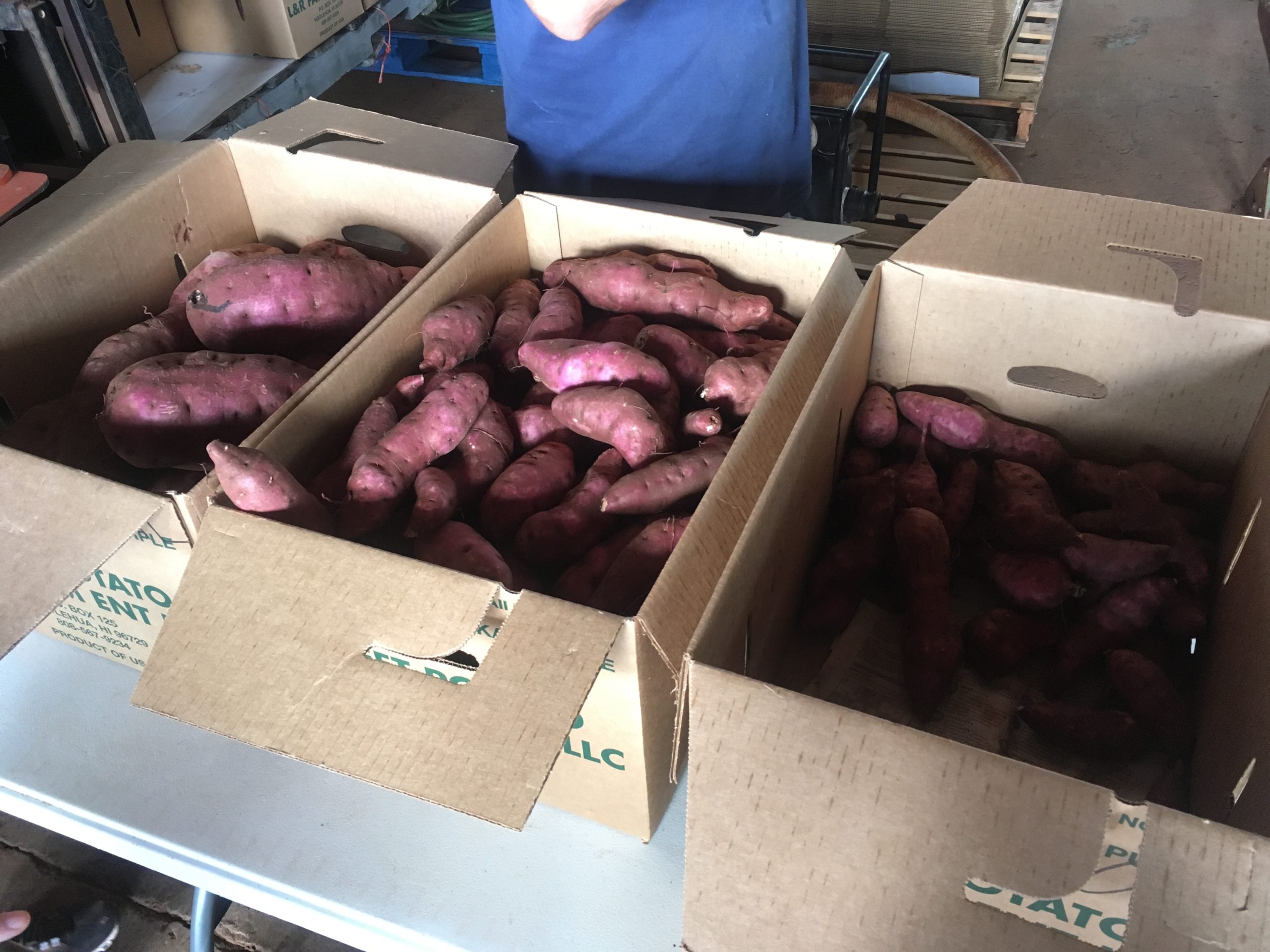 Since the potatoes are propagated by cuttings, they are basically growing the exact same plant that was discovered years ago. Talk about generational transfer of experience and knowledge. It's great to see that their children are joining the business and they will hopefully continue it with their children as well!
We ended our day with an incredible meal prepared by Gene Ross.  Classic Hawaiian style food, expertly prepared.  Lucky for us the DeCoit family was able to join us for dinner and continue the wonderful conversations of the afternoon.  We returned to our hotel full and fulfilled from the day.  Looking forward to our next few days on Maui!